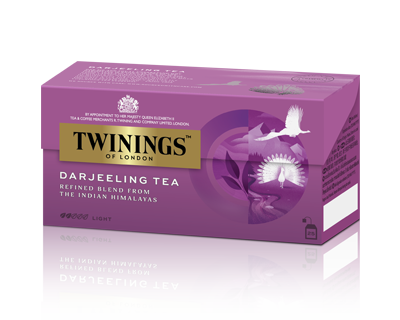 Available in:
25 Tea bags box
100g Loose tea leaf tin
A light golden black tea from the foothills of the Himalayas, this tea has a delicate and unique character that is likened to the Muscatel grape.

Serving :
Serve/Drink hot as is or if you prefer, with milk.
Taste:
Simply sip Twinings Darjeeling and you can sense the sweetness of Muscatel grapes used for making white wine. The uniqueness of Himalayan tea easily and gently sweeps you through genuine ecstasy like you are sipping the finest wine, ensuring a lingering taste longer than others in every sip.
Food Match:
Even though Twinings Darjeeling is considered a light black tea, it pairs well with spicy food such as a hot salsa topped with soft cheese.
Interesting Fact:
Darjeeling tea only comes from the town of Darjeeling which is nestled among the foothills of the snowcapped Himalayan mountains in the north-eastern corner of India. Known as the champagne of tea, its exclusiveness lies with the harvesting period which last only from April to October.